PHOTOGRAPHY
2022 – Merci au Luxembourg Art Prize 2022 pour leur reconnaissance par la Pinacothèque du Grand-Duché du Luxembourg.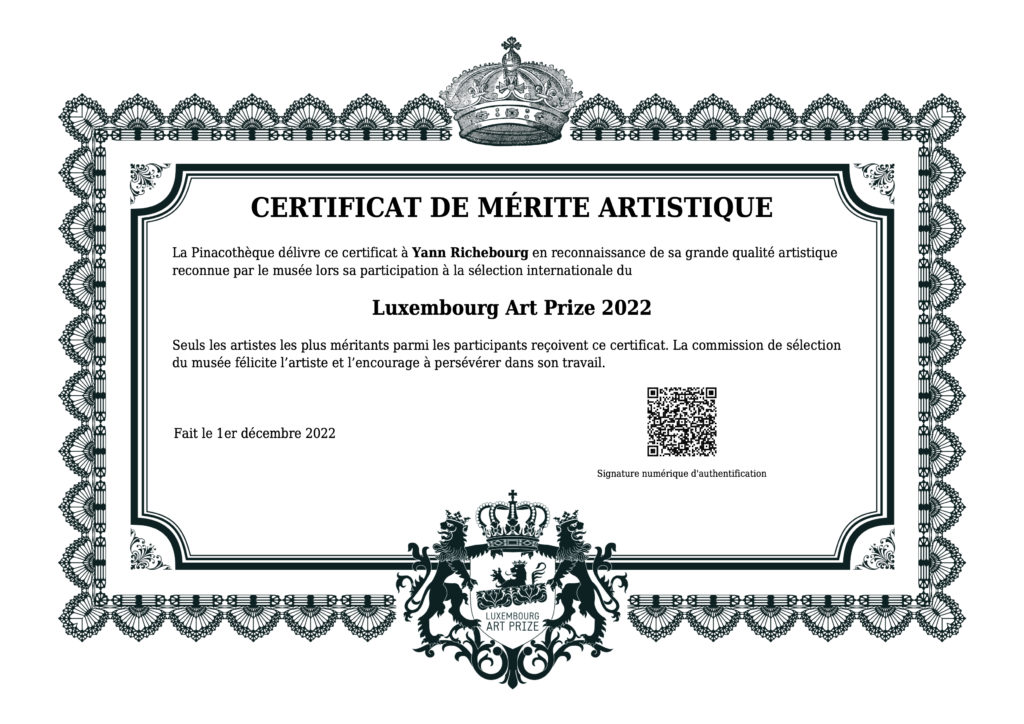 2020 – prix aux 24 h de l'argentique par l'atelier argentique
https://www.latelierargentique.com/resultats
1994 – 2è prix national « Paysages de la mer et des étangs », Barcarès
1993 – 1er prix Concours régional « Mai-photofolies », L'Oeil quimpérois
1990 – 1er prix junior, publication dans « Bigoudenned », Le Guilvinec (29)
POETRY
Merci au Printemps des Poètes 2022 de Boujan-sur-Libron pour l'attribution de ce 3è prix ex-aequo dans la catégorie « CONTE ».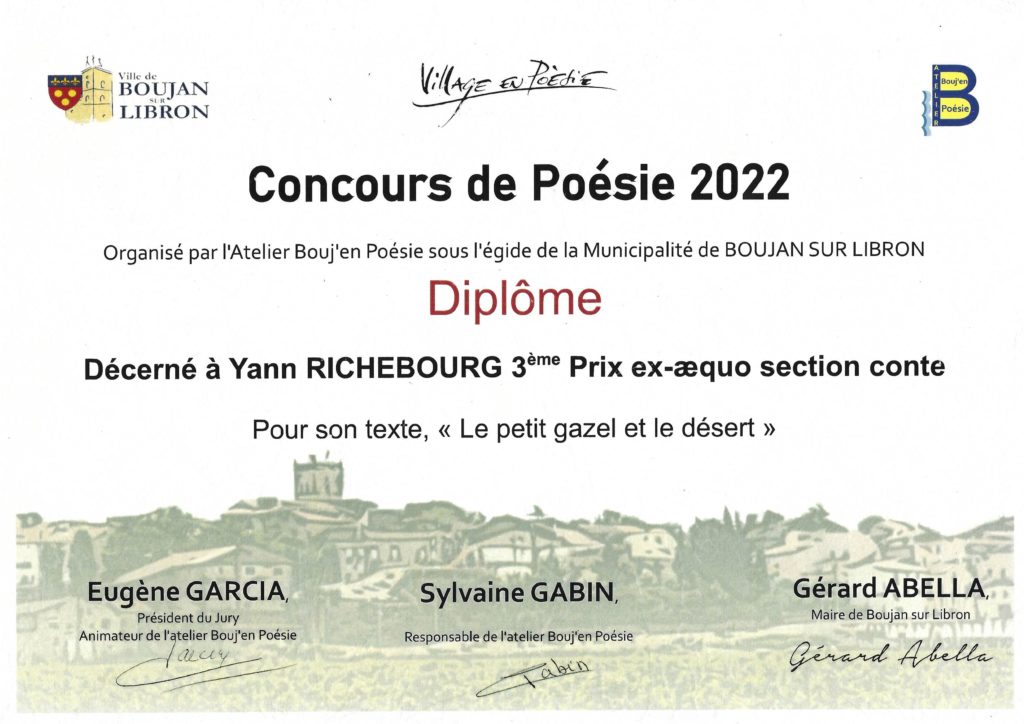 CINEMA
AT SWIFF – USA :
Congratulations! On behalf of the SWIFF team, I am thrilled to share with you that you received an award for your film, L'amour est temps de reflets, at SWIFF 2023: Quarter-Finalist Award in the Best Super short film category. Among the films from 120 countries competing in this year's showcase, we are excited to award your film, L'amour est temps de reflets, with the Quarter-Finalist Award. L'amour est temps de reflets was well received by all of our judges at SWIFF, and we were highly impressed with your work.
Our judges' comments on L'amour est temps de reflets:
« A cinematic tour de force that exemplifies the director's visionary storytelling and artistic integrity. »
« The visual palette is vibrant and enchanting, bringing the film's world to life in a visually stunning way. »
« A masterfully directed film that showcases the director's keen eye for storytelling. »
« Un tour de force cinématographique qui illustre la narration visionnaire et l'intégrité artistique du réalisateur. »
« La palette visuelle est vibrante et enchanteresse, donnant vie au monde du film d'une manière visuellement époustouflante. »
« Un film magistralement réalisé qui met en valeur l'œil aiguisé du réalisateur pour la narration. »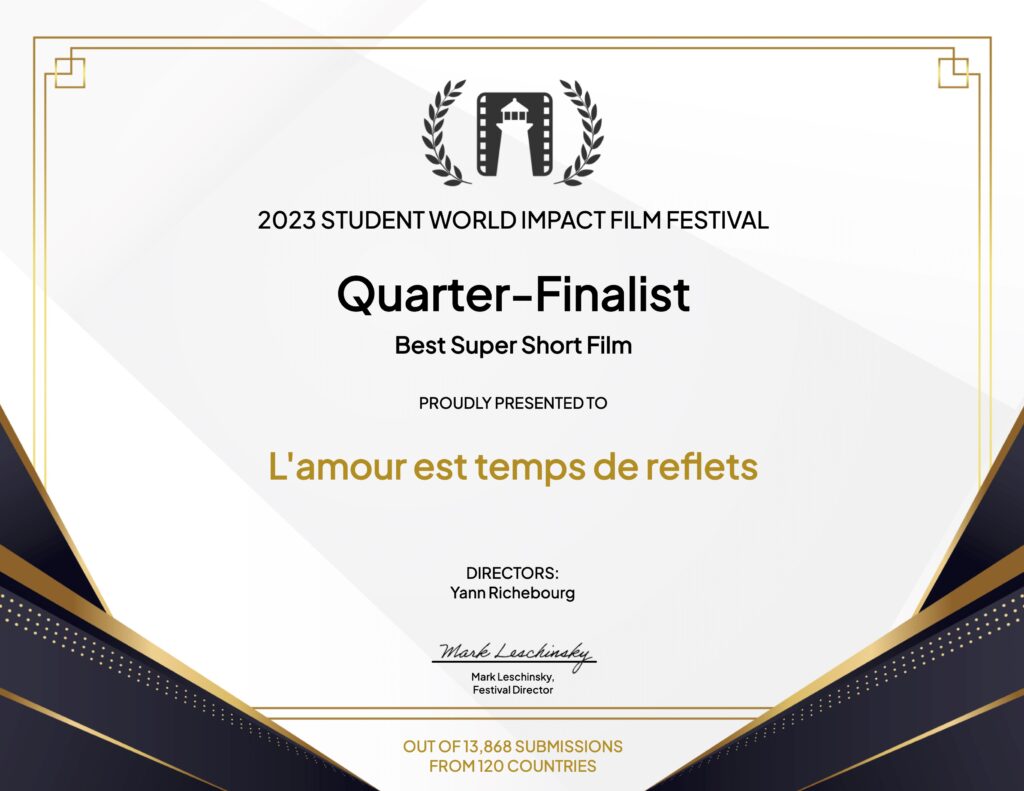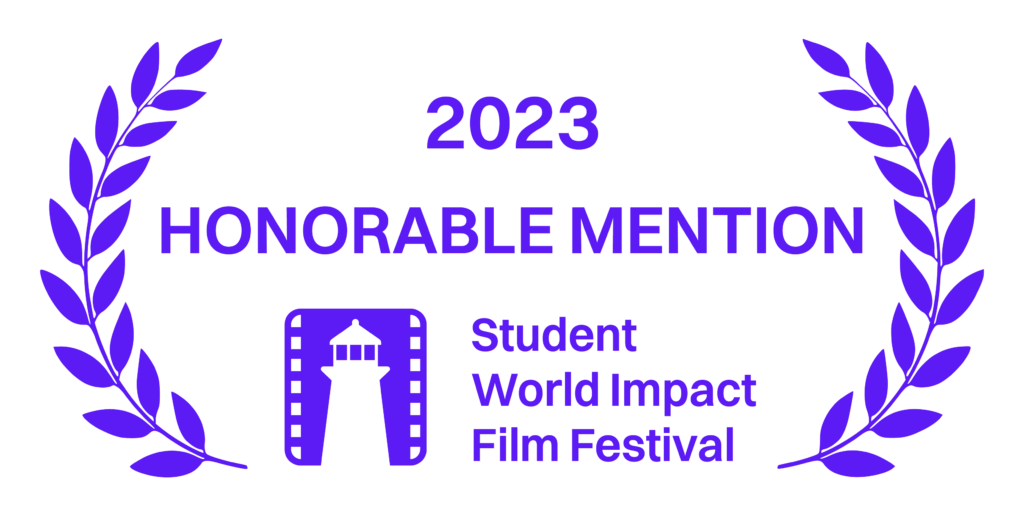 AT MDIFF – UK :
see at the bottom of this page : https://mdiff.net/results-june-2023/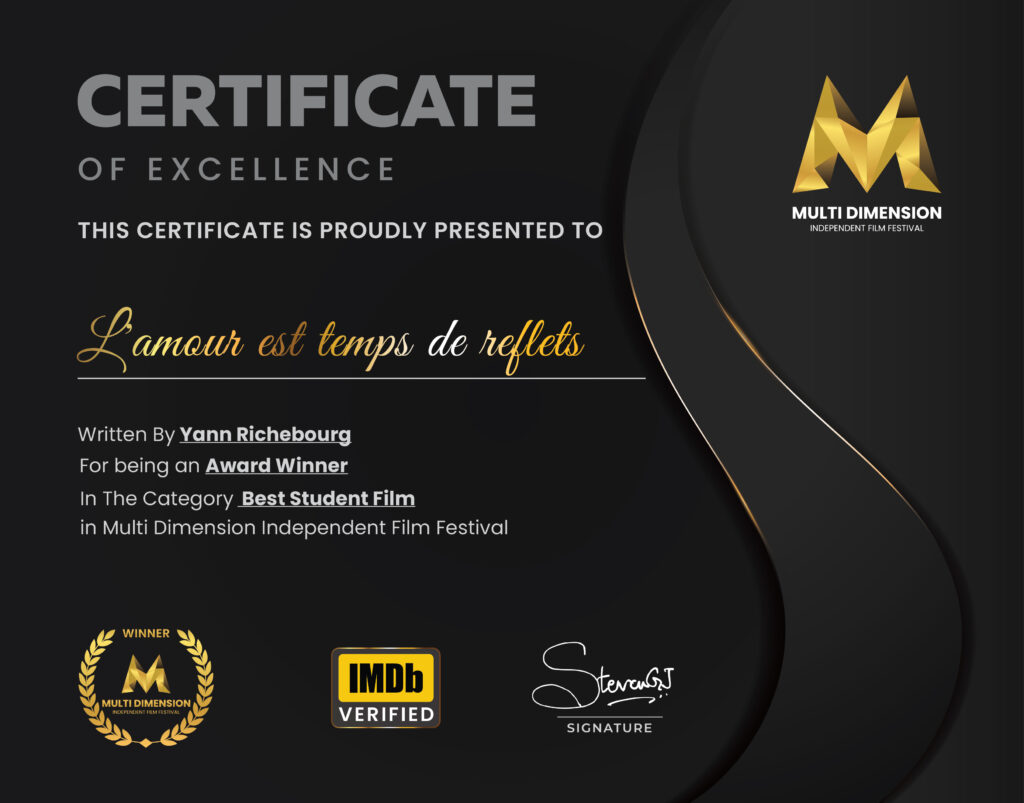 AT 8 & Halfilm – Roma :
https://8andhalfilmawards.com/winners-july-sixth-edit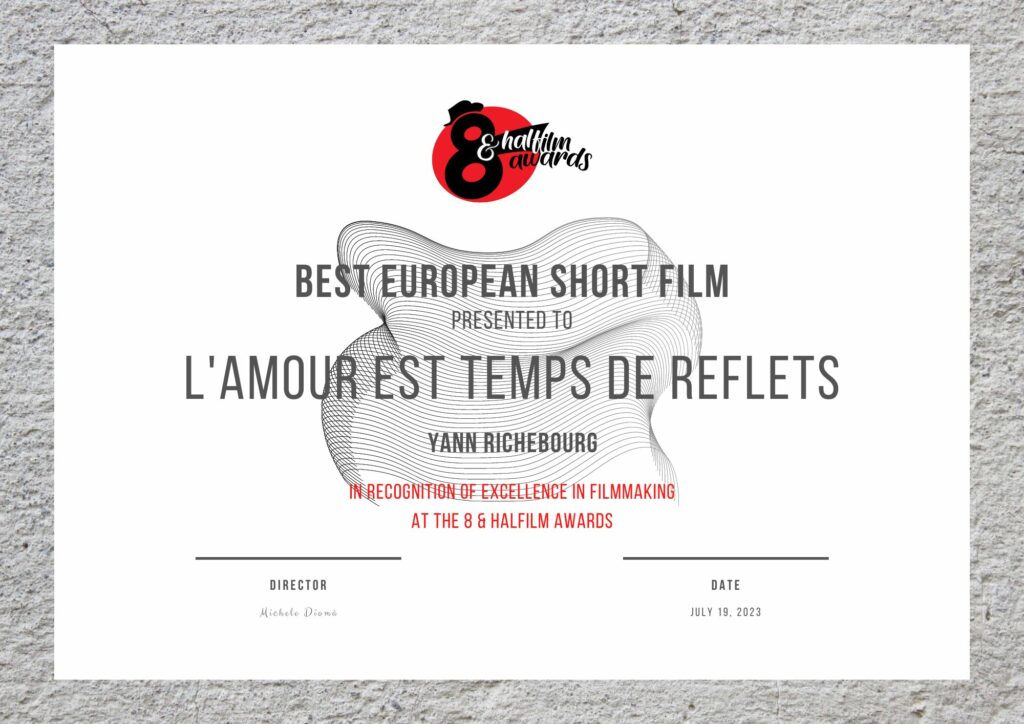 AT FilmNest – India :
https://filmnestiff.in/screening-may-june-2023/?fbclid=IwAR11QaNU2cJfAE4H9cP2ypEN-kLmw7b-XtO4QsTay-7Ez5OBycbhErKMdFA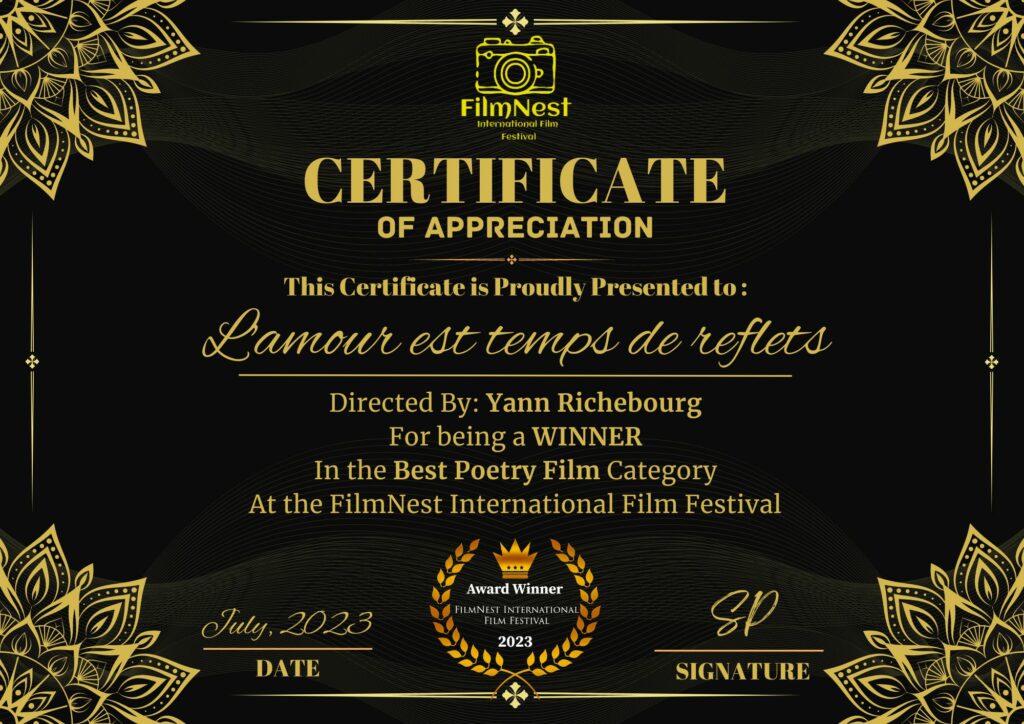 AT Frida Film Festival – Paris :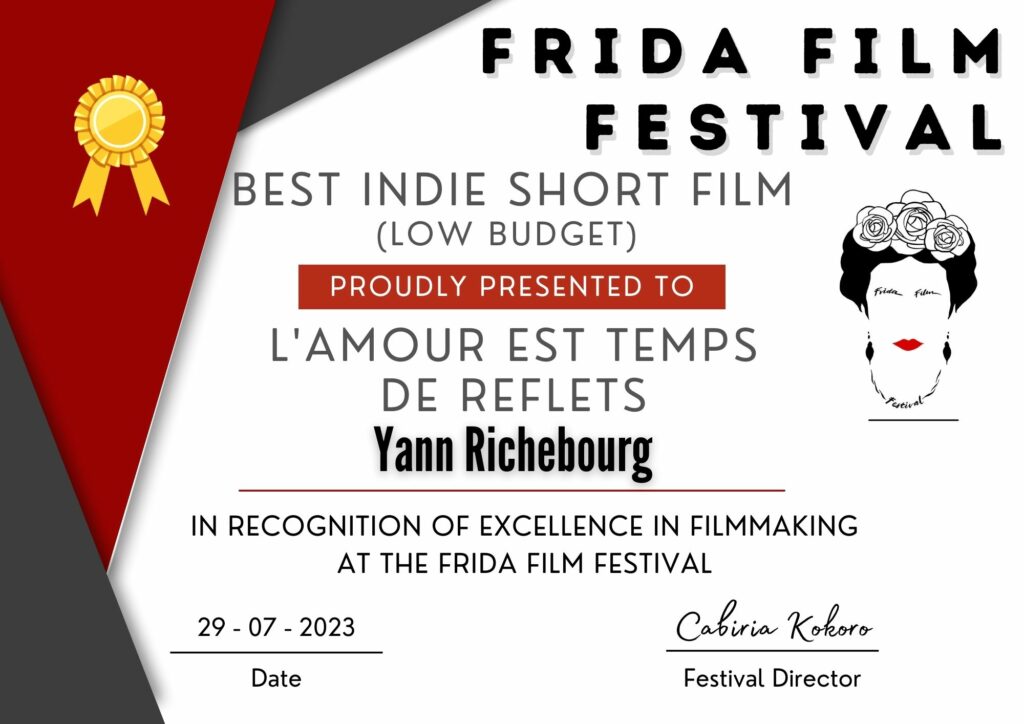 AT ONE-REELER – LOS ANGELES :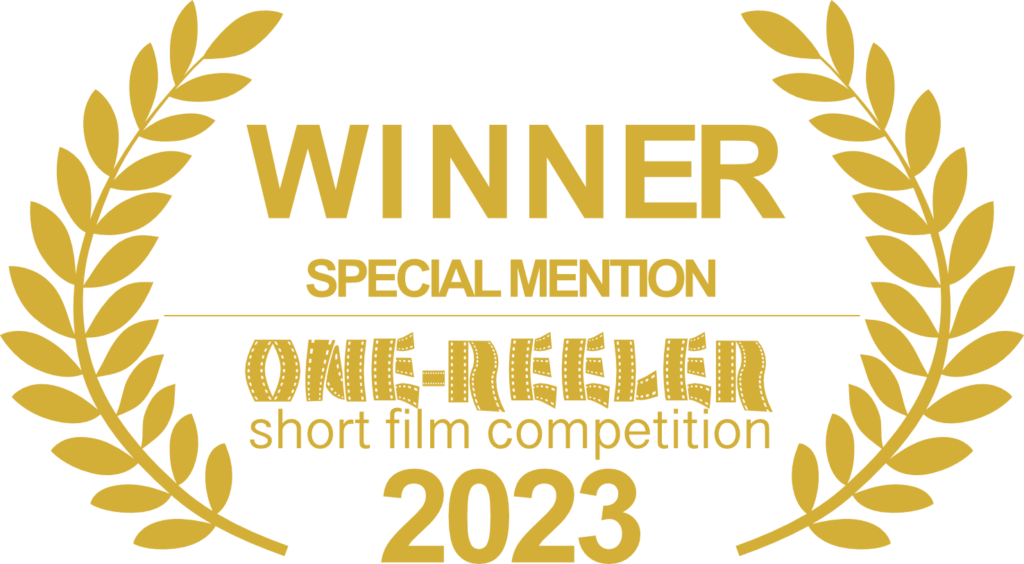 AT NAPLES FILM AWARDS – NAPLES :
https://naplesfilmawards.com/winners-july-2023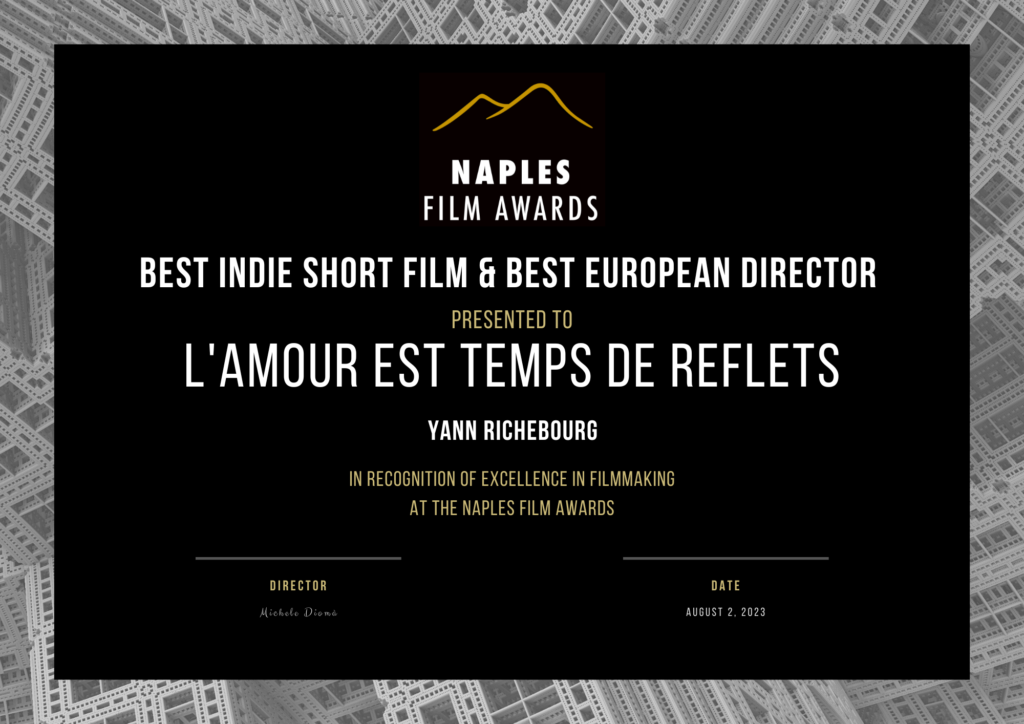 AT STANLEY FILM AWARDS – LONDON :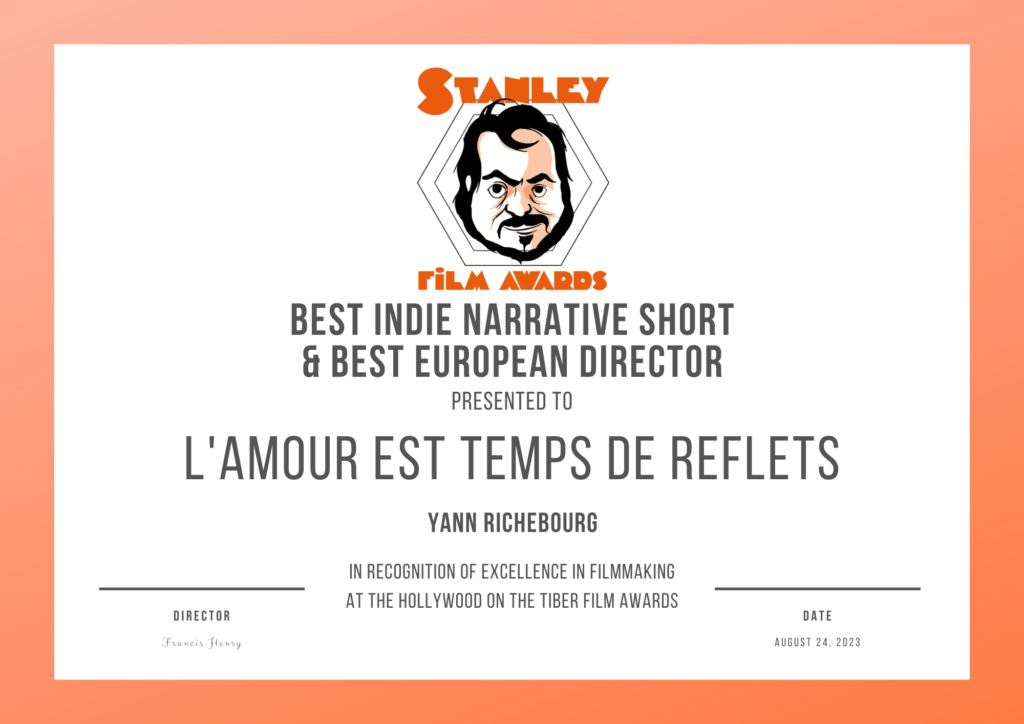 https://stanleyfilmawards.com/winners-seventeenth-edit
AT PAGEANT FILM FESTIVAL – GANGTOK, INDIA :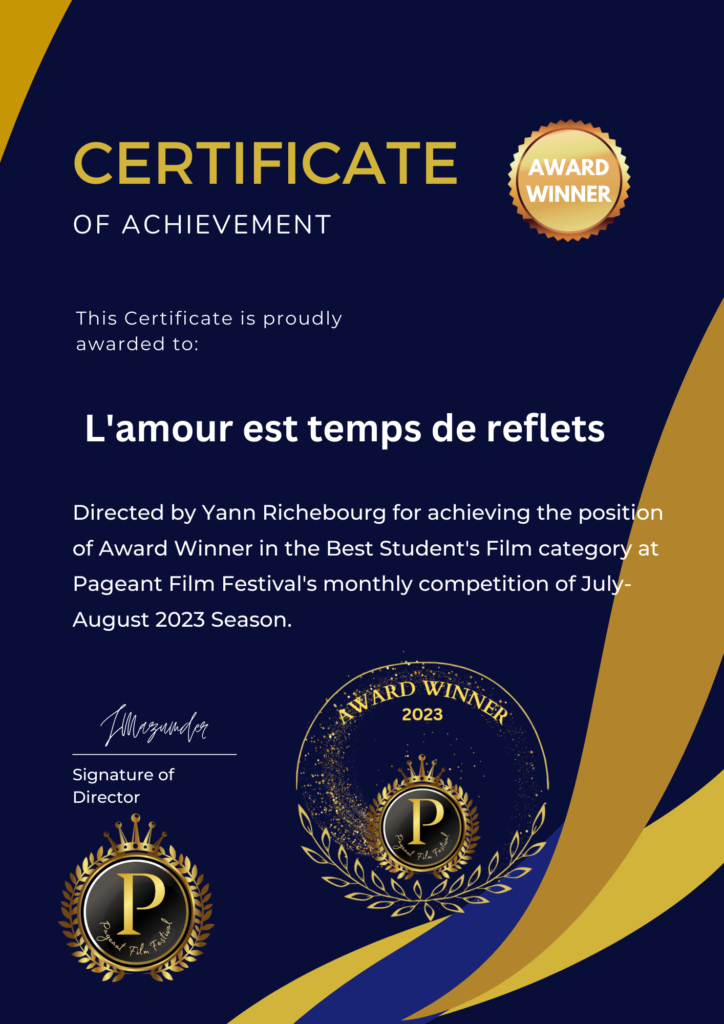 AT 8 & HALFILM – EVENT IN TORONTO 1ST EDITION :
https://8andhalfilmawards.com/winners-toronto-first-e-1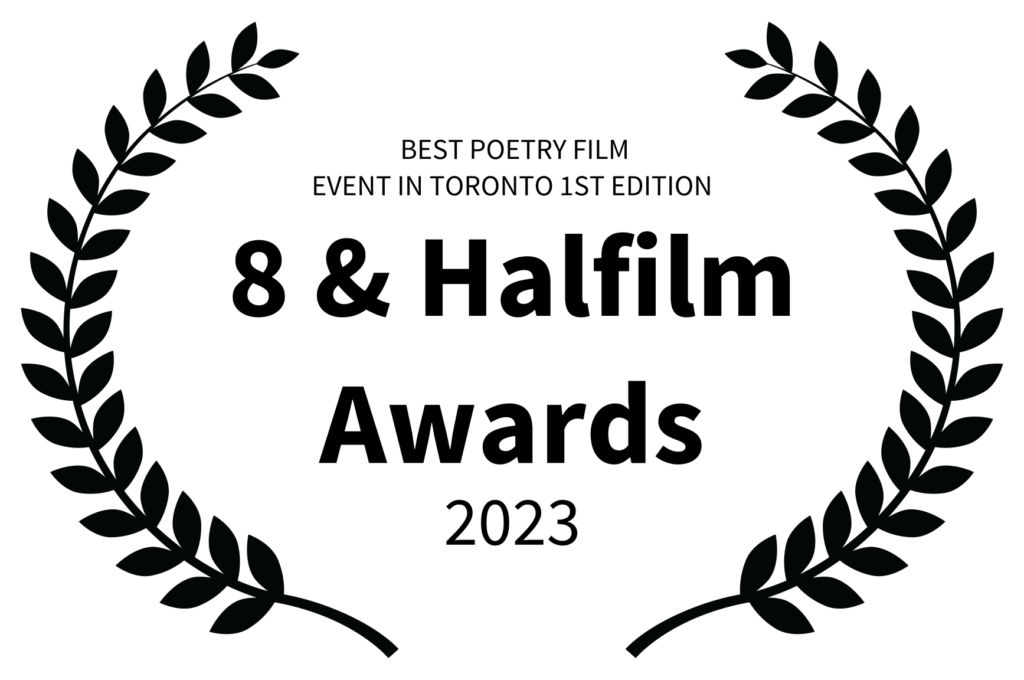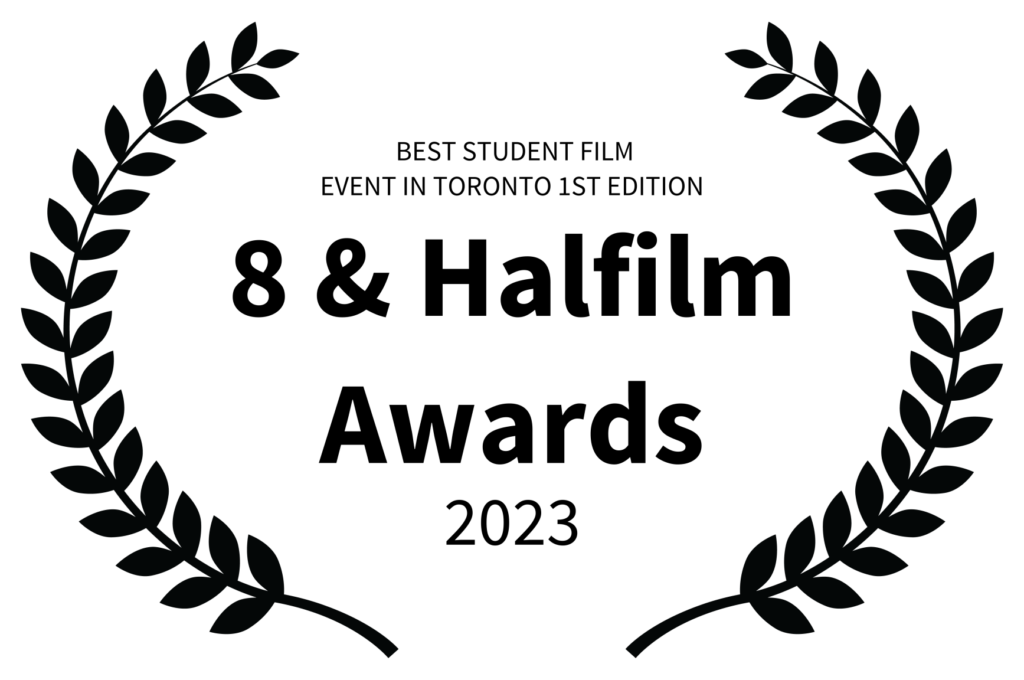 AT PARIS FILM AWARDS :
https://parisfilmawards.net/august-2023 @parisfilmawards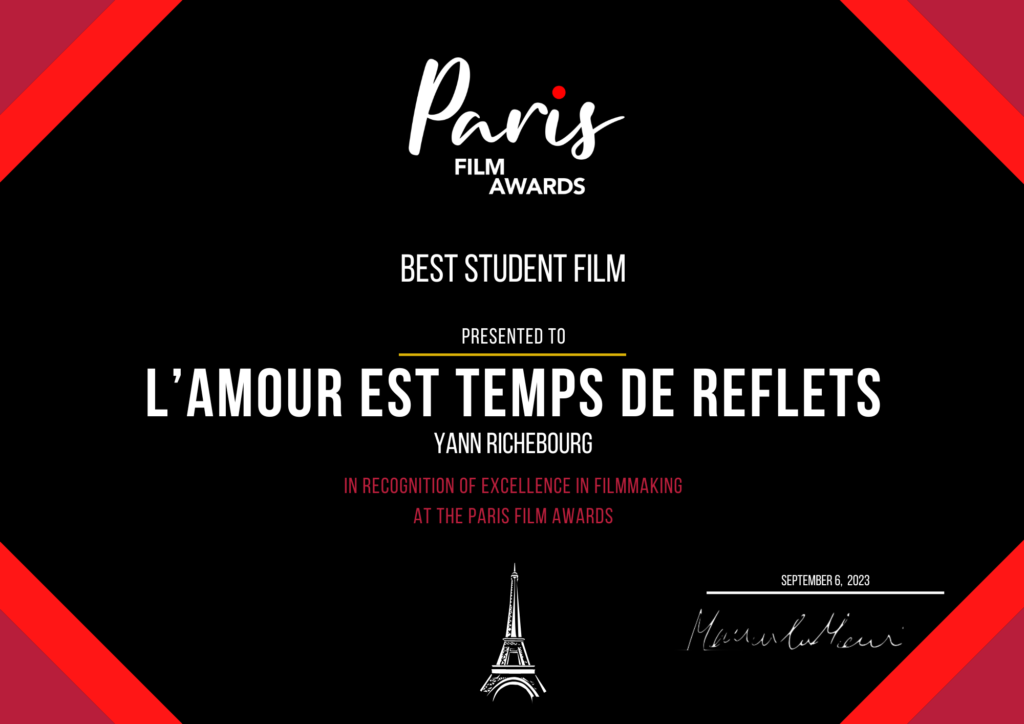 AT MILAN GOLD AWARDS :
https://milangoldawards.com/august2023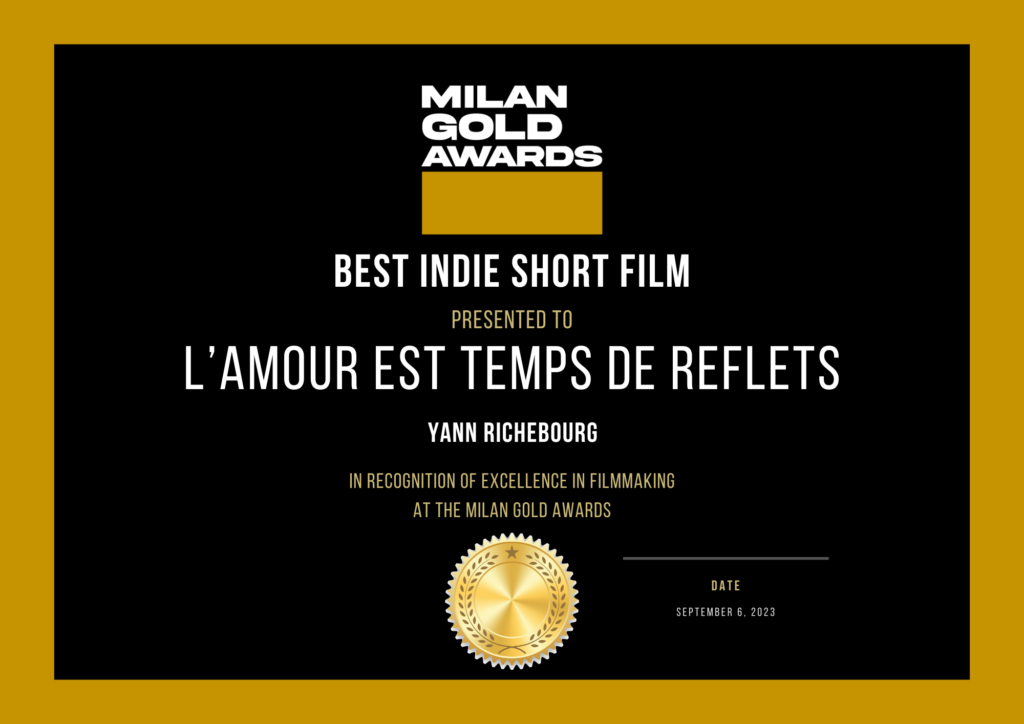 AT HOLLYWOOD GOLD AWARDS – LOS ANGELES :
https://hollywoodgoldawards.com/august-2023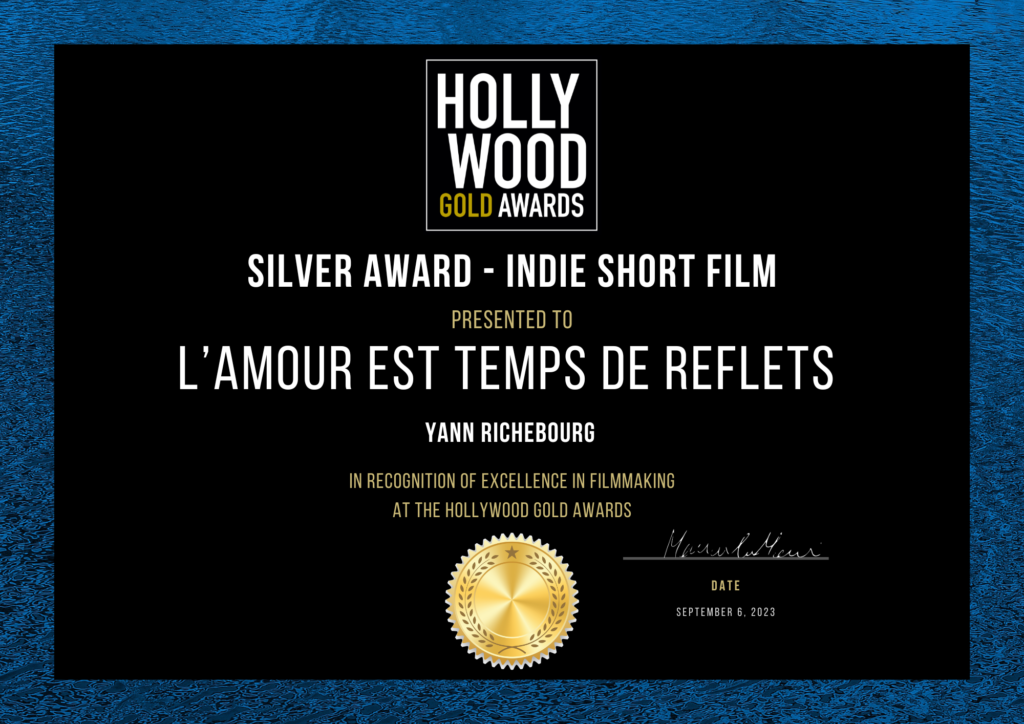 AT INTERNATIONAL GOLD AWARDS – NEW YORK :
https://internationalgoldawards.com/august-2023
AT VANCOUVER INTERNATIONAL MOVIE AWARDS- VANCOUVER, CANADA :
« L'amour est temps de reflets » was just selected by Vancouver International Movie Awards
@VIFFest via https://FilmFreeway.com as Quarter Finalist.